Events Calendar
NIAGARA FALLS ILLUMINATION
January - February The Falls Are Illuminated From Dusk Until 10:00pm And From May - December Until Midnight.
Purple Reign – Prince Tribute
Avalon Theatre at Fallsview Casino
February 3, 2024
From humble beginnings in small college clubs, Purple Reign has risen to international acclaim and recognition as the world's #1 Prince tribute. Jason Tenner is the legendary musician in this electrifyingly energetic award-winning show.
Purple Reign captures the imagination and seamlessly re-creates the blistering performances and raw energy of Prince in his prime and returns you to the era that made "The Artist" an international superstar. Featuring a tribute to Morris Day and The Time, this show is a must-see for Purple Rain movie fans and all live music fans alike!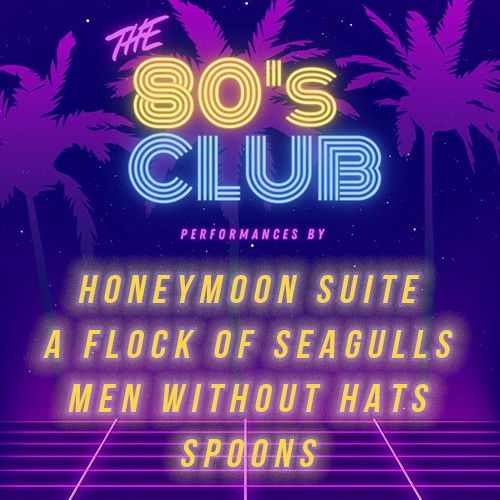 The 80's Club: Honeymoon Suite, A Flock of Seagulls, Men Without Hats & Spoons
OLG Stage at Fallsview Casino
February 10 at 7pm
The greatest pop music era gave us the most amazing artists. Turn back the clock to the 1980's with these Canadian superstars.
The 80's Club features chart-toppers such as I Ran (So Far Away) (performed by A Flock of Seagulls), Romantic Traffic (The Spoons), The Safety Dance (performed by Men Without Hats), What Does it Take (by Honeymoon Suite), and much MUCH more!
On Your Feet! The Story of Emilio and Gloria Estefan
Avalon Theatre at Fallsview Casino
February 14 - 18, 2024
February 14: 8:30pm
February 15: 3pm & 8:30pm
February 16: 9pm
February 17: 3pm & 9pm
February 18: 3pm & 8:30pm
This is the inspiring true story about heart, heritage and two people who believed in their talent – and each other – to become an international sensation: Gloria and Emilio Estefan. Fusing Cuban musical traditions with '80s and '90s high-energy pop rhythms, On Your Feet! is a multimedia stage spectacle. Directed by two-time Tony Award® winner Jerry Mitchell (Kinky Boots), with choreography by Olivier Award winner Sergio Trujillo (Jersey Boys) and a book by Academy Award® winner Alexander Dinelaris (Birdman), On Your Feet! features some of the most iconic songs of the past quarter-century, including Rhythm is Gonna Get You, Conga, Get On Your Feet, Don't Want To Lose You Now, 1-2-3 and Coming Out of the Dark. Prepare to be on your feet from start to finish!
The Glorious Sons - The Glory Tour
Meridian Centre
February 17 at 8pm
Following the release of their brand-new single "Mercy Mercy", two-time JUNO award winning band, The Glorious Sons, have announced their going back on the road for their "Glory" Tour! On February 17, 2024 the Canadian rock group stops in Niagara to ROCK OUT the Meridian Centre again!
Boyz II Men
OLG Stage at Fallsview Casino
February 21 at 8:30pm
Boyz II Men redefined popular R&B and continues to create timeless hits that appeal to fans across all generations. The group's 4 Grammy Awards are just the tip of the iceberg: throughout their 30-year career, Boyz II Men have also won a whopping 9 American Music Awards, 9 Soul Train Awards, 3 Billboard Awards, as well as a Casino Entertainment Award for their acclaimed residency at the Mirage Resort and Casino in Las Vegas, which launched in 2013. The trio holds the distinction of being the best-selling R&B group of all time, with an astounding 64 million albums sold. Their past hits include: End of the Road, I'll Make Love to You, One Sweet Day, Motownphilly and many others.
Taylor Hicks Night Moves
Avalon Theatre at Fallsview Casino
February 22 at 8:30pm
Taylor Hicks began to sing at an early age and learned how to play the harmonica and guitar by himself. After studying at Auburn University in Alabama and starting a band, Hicks moved to Nashville to further his musical ambitions. In 2005, he decided to audition for American Idol. During his performances, Taylor won a large fan following. This group eventually called themselves the "Soul Patrol", and was large enough to vote him as winner of the fifth season's competition in 2006. Hicks released an album, Taylor Hicks, that same year. Besides recording albums and touring the country, he headlined a show in Las Vegas in 2012–14. Taylor also co-owned a barbecue restaurant in Birmingham, Alabama, and from 2016 to 2018 he hosted a reality food and travel television show called State Plate, which showcased the main foods from each state. In 2017 he released the song Six Strings and Diamond Rings. His autobiography, Heart Full of Soul, was published in 2007.
Colbie Caillat
OLG Stage at Fallsview Casino
February 23 at 7:30pm
To date, Colbie Caillat has been honored with two GRAMMY Awards and has accumulated more than 15 billion streams. Her debut album Coco hit #5 on Billboard and is certified 3x Platinum, while her Platinum-selling follow-up album Breakthrough landed at #1 on Billboard. Starting with her breakthrough hit Bubbly which is certified 6x Platinum, her radio career features eight #1 and/or top 10 singles including Realize, Try, and her GRAMMY-winning duet with Jason Mraz, Lucky. Her live show is personal and engaging in any setting and she has become an expert storyteller. Throughout her career, she has been an avowed spokesperson and supporter for ASPCA, the Surfrider Foundation, Save The Music, Farm Sanctuary, and The Humane Society of the United States.
Justin Willman Magic For Humans in Person Tour
Avalon Theatre at Fallsview Casino
February 24 at 9pm
Justin Willman wants to melt your brain while making you laugh. He's best known as the star and creator of the hit Netflix series Magic For Humans. But you may recognize him from one of his many television appearances (The Tonight Show, The Today Show, Ellen, Conan...). Or maybe he's the child magician you hired in suburban St. Louis in the 90s. If you don't know Justin, he's a magician and comedian who's mastered the art of turning cynics into believers (or at least getting them to laugh). His live show is simultaneously mind-blowing and hilarious and will likely keep you up at night wondering how the heck any of it was possible. Justin is also a proud father, a loving husband, and has zero experience as a licensed boat mechanic (that's a different Justin Willman).
Air Supply: The Lost in Love Experience
OLG Stage at Fallsview Casino
February 29 at 8:30pm
Graham Russell & Russell Hitchcock met on May 12, 1975, the first day of rehearsals for Jesus Christ Superstar in Sydney, Australia; they became instant friends with their common love for The Beatles and, of course, singing. Air Supply was born.
Clive Davis signed the band to Arista Records and in 1980, Lost in Love became the fastest selling single in the world, leaping to the top of all of the charts. Now Air Supply was on their way. The second single was All Out of Love, and that went up the charts even quicker.
Seven top-five singles later, Air Supply at that time had equaled The Beatles' run of consecutive top five singles. The albums Lost in Love, The One That You Love, Now & Forever, and The Greatest Hits sold in excess of 20 million copies.
Air Supply's live shows always hold audiences captive around the world. They were the first Western group to tour China, Taiwan, and countless other countries that before would not allow pop music across their borders. In 1983 they recorded Making Love Out Of Nothing At All by Jim Steinman which solidified the group as a permanent force in modern music.
In 2013, the duo was inducted into the Australian Recording Industry Association's Hall of Fame. Air Supply celebrated their 40th anniversary in 2015 and continue to delight audiences all over the world.