Events Calendar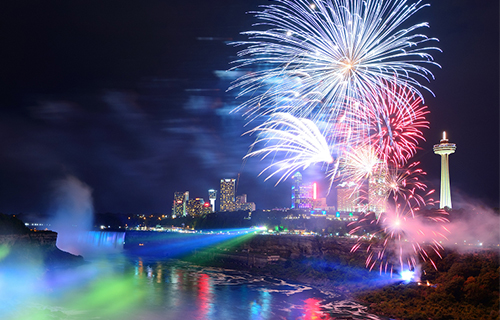 Winter Festival of Lights
6075 Niagara Parkway, Niagara Falls
November 16, 2019 - January 12, 2020
Be sure you explore the amazing glowing light displays that make up the Ontario Power Generation Winter Festival of Lights in Niagara Falls, Canada – November 16, 2019 to January 12, 2020. Each winter the festival captures the magic of the holiday season, so be sure to attend their brightest season yet!
AN EVENING WITH OLD DOMINION THE BAND BEHIND THE CURTAIN
Fallsview Casino Resort 6380 Fallsview Blvd Niagara Falls, ON L2G 7X5
Dec 12 - 8:30PM
Dec 13 - 9:00PM
Since breaking out into the country music scene, Old Dominion has won Group of the Year twice at the ACM Awards and is also the reigning CMA Vocal Group of the Year. Join us as they share the stories behind their music and perform hits such as Written in the Sand, Hotel Key, Snapback, and One Man Band.
A Night of Canadian Country
6815 Stanley Avenue Niagara Falls, Ontario Canada L2G 3Y9
Sunday, December 29, 2019
Multipule CCMA and Juno award winner Brett Kissel has been tapped as the headlining act for A Night of Canadian COuntry on December 29, also including performances by Eric Ethridge and Emily Reid.


This one-night music festival is sponsored by Country 89 and brings back last year's Bands-Bites-Brews theme. Dust off those cowboy boots and get ready for a good time with line dancing, bull riding, beer tents, couthern-style carnival eats and much more!


Tickets for A Night of Canadian Country go on Sale September 12 at 10:00 a.m. and range from $40 to $100(plus taxes and fees). They will be available for purchase online at tickets.com and out Box Office at 6815 Stanely Avenue. Box Office hours are Mondaythrough Friday from 9:00 a.m to 5:00 p.m.
New Year's Eve with Bryan Adams
Queen Victoria Park 6161 Niagara Pky, Niagara Falls ON L2E 3E8
Tuesday, December 31st at 8:30pm
Ring in the new year with the Canadian Horseshoe Falls as your spectacular backdrop at Niagara Parks' New Year's Eve celebration hosted in partnership with the City of Niagara Falls.


With special performances by notable Canadian talent, this free outdoor event features two brilliant fireworks displays, a licensed area and delicious dining options offered by Niagara Parks Culinary. Join us for this highly anticipated celebration in Queen Victoria Park!