Events Calendar
An Intimate Acoustic Evening with Jeff Martin of The Tea Party
6815 Stanley Avenue Niagara Falls, Ontario Canada L2G 3Y9
Friday, November 1, 2019
9:00 PM-11:15 PM
Jeff Martin was raised in Windsor, Ontario and started playing guitar at the age 8. He formed his first band at age 11 and decided, then and there, that this is what he wanted to do with his life. In addition to being a member of the seminal Canadian band, The Tea Party, Jeff also produced or co-produced all of their albums. As a producer, he has worked with artists such asx Thenth Planet and Hunderd Mile House and has recorded with David Usher, Conjure One and Todd Kerns.
Great Canadian Caesarfest Niagara Falls
pin Scotiabank Convention Centre 6815 Stanley Avenue, Niagara Falls, Ontario L2G 3Y9
Saturday, November 2, 2019 at 12:00PM–8:00PM
Join us at the Scotiabank Convention Centre in Niagara Falls, Ontario for the Great Canadian Caesarfest. Tickets $15 in advance or $20 at the door. Drink tickets $3 each. The GCC is Canada's only festival devoted to our national drink - The Caesar Cocktail. Caesarfest is a collision of spirit makers, Caesar condiment artisans and Caesar fans. The event offers something for everyone including non-alcohol and vegan cocktails for your enjoyment. Join us as we celebrate Canada's national cocktail with plenty of samples and give-aways, door prizes and live entertainment. Plus enjoy food vendors and alternative beverages (Beer & Ciders). Ticket permits admission into the event. Vendor samples while supplies last. Live entertainment. Ballot box prizes; Food 8$ to $15 dollars. Menu developed by Scotiabank Convention Centre chef. Drink tickets are $3 for 9 oz samplers and $6 for full size drinks with various garnishes.
Fallsview Blackjack 21 Tournament
Fallsview Casino Resort 6380 Fallsview Blvd. PO Box 300 Niagara Falls, ON L2G 7X5 Canada
Thursday, November 07, 2019
On Thursday, November 7, 2019 we will be giving away a Grand Prize of $25,000 in our Fallsview Casino Resort Blackjack 21 Tournament! For an entry fee of $250, you will play in one qualifying session, with the potential of advancing to the semi-final and championship rounds. Test your luck and skill in this exciting one-day tournament! Space is limited. Don't wait, reserve your spot today by calling 1 (877) 37-MY-PAC (1-877-376-9722). For full tournament rules and details call 1 (877) 37-MY-PAC (1-877-376-9722) or visit the VIP Player Services Desk at Fallsview Casino Resort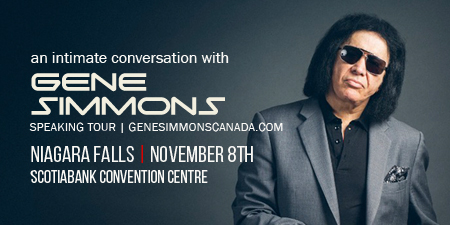 An Intimate Conversation with Gene Simmons
Scotiabank Convention Center Niagara Falls, Ontario
Friday November 8th,2019
Gene Simmons, legendary frontman and co-founder of KISS, one of rock's most successful and longest-running bands, announces three Ontario appearances this November. After an epic and storied 45-year career, and hot on the heels of "End of the Road," his final world tour with KISS, Gene Simmons sits down with Canadian audiences for an intimate and candid conversation. Simmons who rose to fame in the '70s as the blood-spitting, fire-breathing, bass-playing Demon will share his life stories in this tell-all moderated discussion on how he approached his band as a business, stepping up to new opportunities and taking massive risks. The entrepreneur, author, television personality and Rock n' Roll Hall of Famer, who with KISS sold more than 100 million albums worldwide, will unleash his acumen and lay out his secrets on what it takes to climb the ranks to join the wealthy and powerful in his unstoppable and unapologetic style. Audience members will be invited to take part in the conversation through an interactive Question & Answer period that promises to generate an interesting discussion.
An Interactive Evening with Dr Phil
Scotiabank Convention Centre - 6815 Stanley Ave, Niagara Falls
November 13, 2019 @ 8pm

According to Phil McGraw, host of TV's #1 daytime talk show, Dr. Phil, "we all have a social mask. We put it on, we go out, put our best foot forward, our best image. But behind that social mask is a personal truth, what we really believe about who we are and what we're capable of." Leadership and motivation are among the areas the 'no holds barred' daytime host plans to touch on while 'peeling back the mask' during his 2-city Canadian tour. Stops will include Niagara Falls, ON on November 13th, at the Scotiabank Convention Centre and London, ON on November 14th at Budweiser Gardens.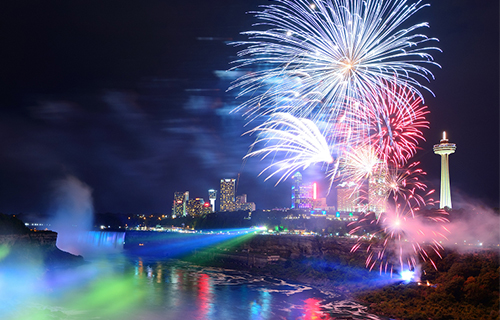 Winter Festival of Lights
6075 Niagara Parkway, Niagara Falls
November 16, 2019 - January 12, 2020
Be sure you explore the amazing glowing light displays that make up the Ontario Power Generation Winter Festival of Lights in Niagara Falls, Canada – November 16, 2019 to January 12, 2020. Each winter the festival captures the magic of the holiday season, so be sure to attend their brightest season yet!
Holiday HandMade Market
6815 Stanley Avenue, Niagara Falls
November 22 - 24, 2019
Get a jump on your holiday gift giving at Niagara's LARGEST indoor holiday handmade market featuring 1000's of one-of-a-kind handcrafted gifts and artisan made products all under one roof.


With 200 Canadian artisans, Holiday Café and Wine Bar, art installations, live music, Artists Alley gallery and more, the HandMade Market is a one-stop-shop and can't miss event.


The Market is a travelling boutique shopping experience that promotes handmade arts and crafts, local artisans and a 'small-box' sweat-shop-free atmosphere.